Strategically positioned in such a fashion opposite the Org in Castlereagh Street makes for good recon.
TODAY!, a lonesome FSM was out front trying to coax people into the Org with little success. She was mustering all the Tone 40 she had, and in the 45 minutes I spent counting and observing (only 2 went in after some coaxing from possibly 100 approached) who she was targeting (she was a rather attractive Asian lady who was more often than not targeting males in the 20-30 demographic) she hadnt manged to get
anyone
to stop other than one lady who stopped for about 30 seconds and hurridly left with a flyer for a 'free stress test' in hand (I actually saw the lady toss in the tarsh at the next rubbish cbin down the corner.
This FSM had the full stare happening as people approached and when they looked at her, she displayed the big grin trying to invoke interest in people scurrying past (most sorta just brush their hand in her direction and shook their heads in a 'no thanks' fashion). Many approaches were
not
made toward caucasians and were mostly directed at 'ethnic looking' people ( hence the newish sidewalk board for free stress tests being changed ), she managed to give 'free stress test' flyers to 5 African homies!
So, just under 40 minutes of watching this FSM pop in and out of an adjacent doorway (next door) acosting people on the footpath (she was starting to step right in peoples path by this time), a Sea Ogre comes down stairs onto the street and gives this FSM some verbal ( I wasnt close enough to hear, but the body laguage was decisive in its meaning) 'tech' (this FSM's arms are fully crossed now and she's almost wincing) and he then proceeds to head back up stairs to crack the whip on subordinates.( I imagine)
Sooooo, the FSM is putting it all out there and still no luck with her clip board in hand until BINGO!!! She spots 2 Asian young women strolling down the street. WELL!!!, she gets right in front of them and starts up the 'tech' and coaxs them into a doorway (she woulda been convinced her Tone 40 and the prompt from Sea Ogre was the guiding factor) and is pretty much got one girl interested (with her friend clinging tightly to her arm) as her other friend is sorta dubious (going by body language coz I couldnt get that close) and is trying for a moment to get her friend to continue on.
All this time the FSM is writing stuff down and putting it to her new raw meater and and the FSM takes 2 steps towards the Org doors and the 2 raw meaters are standing there and the FSM waves them toward the Org. These 2 Girls were hesitant (especially one of them) and the one first approached looked like she said (as she moved toward the Org doorway) to her friend she'd only go in if her friend went to. (more observation of body laguage here)
So the first 'rube' heads in and her friend reluctantly follows her.
The Org is all glass more or less on the street front and I could see that these 2 asian Girls were sat down and most likely copping the Personality Test first off to find the 'point of sale' and get them 'on course' quickly.
Scientology have been reduced (because Sydney just never dug hubbard since the mid 90's especially) in Sydney because they just cant administer 'stress tests' out in public the way they use to. Maybe the Theraputic Goods Administration have been tipped off about a device possibly being used to 'diagnose' stress when
that
can only be done by Medical Practioners
Now for the pics.
The first image is of the FSM (standing behind the 2 Asian girls) with her Tone 40
This next image is of the Sea Orgre 'giving it to' the FSM.
This next image is of the newish sidewalk board offering 'stress' tests. Note that it is rather umm..err..distinctive in who it is targetted at?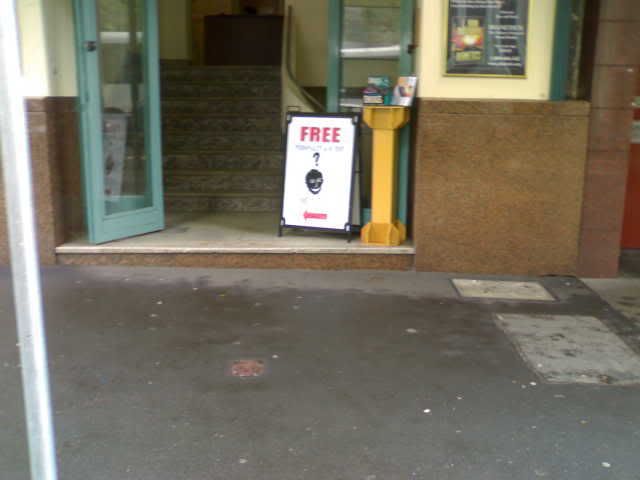 This last image is of what the sidewalk board was before. Its a little blurry, but you can see its very different and doesnt have a black persons face.
The overwhelming majority of those on courses in Sydney are non-caucasians and are Students from overseas studying here and it has been like that for considerable time (someone mentioned to me about theImmigration Office being interested some time back,
that
will be looked into may I suggest). They even have Taiwanese, Japanese, Phillipino translators that attend all events and are in and out of the Org whenever needed.
Students are the lifeblood of Sydney and if Scientology didnt have 2nd generationers to prop up Sea Org and staff, who knows what would happen.