My engrams and Body Thetans were severely restimulated over the holidays when I, against my better judgment, decided to enjoy the perverse amusement of attending Scientology's 2007 New Years Eve Event.
I am coming out of my sabbatical with this report on the event because, well, it was so damn interesting in terms of its psychopathology. It really is something to see Scientology assembled for an evening of entertainment, battle plans, an update on their stats and many "wins", and of course watching them shoot down SP's like ducks in a pond. My report on the event will take several installments because there is so much to tell.
Scientology was desperate to get bodies into the shop for this event. They were in fact so frantic that they had teams driving around delivering tickets to people's homes. The tickets were claimed as a $50.00 value, but were free if you signed for one at ASHO as I did. The tickets were all numbered on the observe side with a bar code, tunnel, row, and seat number as shown here on my ticket. I have erased all identifying data:
It is interesting to note on the obverse of the ticket that Scientology prohibited tickets for this event from being resold. This prohibition undoubtedly explained the complete absence of scalpers in front of the Shrine selling tickets to this very hot Scientology event that everyone in LA wanted to attend. I see scalpers around Staples Center when I go to see the Lakers play, but there was not a scalper for miles around selling tickets to the Scientology New Year's Eve Celebration and no tickets were offered for purchase by any of the dozens of internet ticket resellers. I guess that my postulate to get a ticket was so strong that I beat out the millions of people who wanted to see and be seen at this major happening New Year's Eve Scientology par-tay where we all got down with the ghost of LRH.
*****
Seating is a big deal at the New Year's Eve event. It is a definite status and prestige thing within Scientology to be front row center and/or have a reserved seat. Festively-attired Scientologists were clamoring for the best seats because, by God, they paid a lot of money to IAS to dine at the pre-event dinner that featured linen napery, uniformed waiters, and bottled water on ice.
If I had paid, say, $1,000 - $5,000 for a good seat, I would expect a good seat. And if some dragass, downstat pc snuck up front and took my seat, I would certainly have their SP meat body ejected from the premises and write up a detailed KR on them. I say this because I did witness people being moved from seats that did not belong to them. You can try that wog nonsense at a baseball game and maybe get away with it, but not here at the Shrine when COB RTC takes the stage. You want to be right there up front and get a buzz from all of that exalted DM theta, and nothing is a bigger buzzkill than not having the best seat in the building.
Imagine it: A "Reserved for You!" sign hanging on one of the best seats in the house where you can see the thick layer of pancake makeup that the makeup people trowled onto DM's now weather-beaten, middle-aged face.
Note: DM looked like he had been rode hard and put away wet. Perhaps he has had smoked too many cigarettes, ingested too many megadoses of niacin, inhaled too much gunpowder smoke, motorcycle exhaust, and kerosene exhaust from private jets, and is thus aging prematurely from these toxins?
Add to this the fact that DM has now run amok everyday for three decades trying to destroy psychiatry and enslave the diminishing number of Scientologists who continue to believe the con and you can see why he looks thrashed. Imagine how DM feels living the dream of Scientology everyday? Imagine how his execs feel carrying the full weight of DM's endless and impossible demands on their backs. No wonder Marty Rathbun has blown as BFG reported.
******
I went to ASHO and had to sign for my ticket like almost everyone else. Because I had not greased any IAS palms with money, I got a balcony seat that was lousy. However, they needed to fill the main floor for the cameras, so I got moved with many other people. The Cult was moving people around and the event ran late. They started 30-40 minutes late.
****
My exciting, entheta-free evening all began when a person from ASHO called me several times to invite me to the event. This "asho" who kept calling enthused that, "COB RTC will make the biggest announcement of the past thirty years!" Yet CoS says this every year. I know because I get called every year with an invitation for New Years and I have heard the same line over and over for years. The Cult of Scientology uses this line in order to get a lot of bodies into the Shrine. The Cult always promises a major, biggest, and the most monumental announcement ever in Scientology's history.
Ever since Arnie Lerma famously caught Scientology photoshopping fake heads and headless people into its PR, Scientology has had to be scrupulous and put actual human bodies into the seats, this although some of the people at the event looked like your typical smiling "got my TR's in" Scientology robots. Sea Org was there in force dressed in "Uniform K", meaning upstat civilian clothes, but you could tell who they were because you just can't hide that distinctive "I haven't slept in a week and I will rip your face off if you even look at me wrong" attitude behind nice civilian clothing.
I dressed in an expensive Italian suit, dress shirt, and my Gucci loafers for the event. I wanted everyone to assume that I was an upstat wealthy public. I was treated very well by almost everyone except the regges -- and there was a gauntlet of regges to run when one entered and left the event. I took a lot of cash with me and bought several items in order to have some Scientology MEST in hand. This tactic allowed me to greatly improve my odds of making an escape at the end of the evening. Scientology will not allow you to get away from any of its events unless you buy something. I understand this LRH stable datum and so expended a modest stack of Benjamins in order to ensure my escape and return to the safety of my home planet: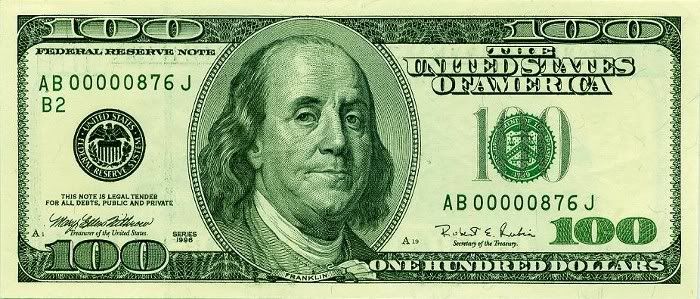 When you flash a fat roll of $100 bills, Scientology salespeople will experience case gain similar to an orgasm when they see the cash. They are trained to immediately originate the thought that you are a gullible idiot and that they can part you from your money in exchange for some piece of the bizarre Xenu-based dreck LRH produced and called the "Tech."
One can observe Scientology salespeople become hypnotized in the presence of actual cash, this because they have and own so little money themselves. Yet why should we be surprised? LRH said that most people have a problem owning money, perhaps especially Scientologists. They are a strange and troubled people who have a problem owning money, well except for DM who wants to own all of the money in the world including yours.
/////