In a stunning development, a group of DC-8 rocketplane pilots and crew who transported hundreds of billions of thetans to Teegeeack are set to rock the local sector by going public with the story:
"We Flew DC-8 Spaceplanes for Xenu"
The story begins 75,000,000 years ago when Confederation Spacelord Xenu Zihuatanejo, popularly known only by his first name "Xenu", contracted with several hundred thousand independent DC-8 rocketplane pilots and crews. These crews were to surreptitiously kidnap and transport the inhabitants of the 76 Confederation planets over which Xenu ruled. Each planet had between 178 and 250 billion people and all were overpopulated.
According to Colonel Ezekiel "Zeke" Thorn, Chief of the
Confederation Rocketplane Astro-Pilots
, the DC-8 crews, all fully trained union members, agreed to undertake the massive kidnap and transport operation for 20 xebits per person kidnapped, transported and disposed of quietly and without sorrow. The xebit was the unit of currency of the Confederation and is roughly equal to one US dollar. "A buck a thetan was our deal with Xenu Zihuatanejo," Colonel Thorn stated at a press conference yesterday on Lunar Base Nine, "and that bastard Xenu stiffed us! We got maybe .20 cents per head and that didn't even pay for the trillions of pounds of the liquid and solid rocket fuels we used in this operation that Xenu code named
Incident II
."
"Incident II began when Xenu had us create a fake air transport company called, 'Confederation Tax Audit Airlines,' or 'CTAA,'" Thorn told the assembled Galactic reporters. "Zihuatanejo's scam was that everyone on the 76 planets was being sent back to their home cities for a census and a tax audit. We later read of this same sort of scam in the Bible when the Romans ordered everyone back home for census and income tax reasons. That is how Mary and Joseph wind up in Bethlehem. Sex, death, and taxes are all used to control populations and Xenu was no different," stated Colonel Thorn. "So we set up the fake CTAA company and started the operation," he explained.
Colonel Thorn offered this 75,000,000 year old photo of a DC-8 CTAA rocketplane and its crew. The rocketplane is seen parked on the desert floor of planet Hidru-9, a carbon-based planet that 202 billion people inhabitated prior to Incident II. Colonel Thorn is the green-being seen standing third from the left: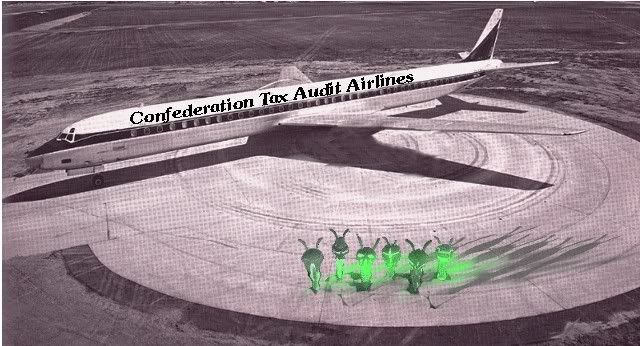 Colonel Thorn said of the photo, "This particular DC-8 rocketplane was the one I flew. My rocketplane was named '
The Sdniweerf
' and wore Confederation tail number UOCOS360000. I transported over 554,000,000 thetans to Teegeeack in this rocketplane and logged over five billion hours doing so. Then that theiving bastard Xenu claimed to have been captured and locked in, 'an electronic mountain prison powered by an eternal battery,' so that he didn't have to pay me and my fellow pilots and crews the hundreds of billions of xebits he owed us!
"Yeah, right! Like we were going to believe his, excuse me, but Xenu's bullshit story about an 'eternal battery.' C'mon! We're rocketplane pilots! We know the history of technology and Xenu doesn't! He can't fool us with this eterna-battery nonsense. Anyway, after Xenu gave us his story he quit returning our calls and e-mails. He disappeared so we couldn't serve him with the papers for our class action lawsuit.
"That sonofabitch kept 80% of the monies that were budgeted for Incident II. He funnelled all of it through banking planets in the Andromeda Galaxy. Xenu used the monies to purchase real estate, all of these great-looking resort planets like
Zexni-Wakini
in the Palm-Deluxe solar system. That is one of the best resort planets in this sector and Xenu Zihuatanejo paid for it with money he embezzled from the payroll for Incident II.
"Xenu is a deadbeat and the
Confederation Rocketplane Astro-Pilots
will expose his theiving and criminal ways! We want the world to know the side of Incident II that is never discussed -- and that is Xenu Zihuatanejo's shyster financing of the operation and the fact that he left hundreds of thousands of DC-8 rocketplane pilots and crews unpaid -- and many of them have been stranded on Teegeeack for 75,000,000 years. Factually, that is a long time!
"If you want to know what the cause of some of Teegeeack's problems, well, then look at a punch of pissed-off and piss-poor broke DC-8 rocketplane pilots who are forced to live in caves, swamps, lakes, deserts, and the bayous. We just want to get paid and get back home. We are asking the UN and the public for its help in tracking down Xenu and making him pay us the money he owes us," concluded Colonel Thorn.
/////