O
nce upon a time there was a man named Ronnie and he lived in America. He still does as a matter of fact.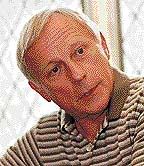 Ronnie was not L. Ron Hubbard, the meth-amped, fast-talking bullshit artist, check-bouncer, and swindler who discovered, among other dark arts, the powerful secrets of Communist brainwashing techniques and used them to launch the Cult of Personality wherein he was God. That is a different Ron. That was the Ron whom Scientologists worship as their Savior. Ron's "Tech" is part Communist brainwashing techniques, part Freudian psychoanalysis, and part utter insanity. The "Tech" makes sense to some people in the same way that a slow suicide, a death wish, makes sense to other people.
Anyway, this Ronnie I am talking about blew a mean horn, somewhat like the Cherubim of Incident II of OT III. He was, and is, a musician. So this Ronnie heard the other Ron -- who was L. Ron Hubbard -- talking about Scientology. Ronnie was impressed. He was so impressed that he became a Scientologist. He went over to St. Hill and flew his ruds.
Ronnie and his wife had kids. One of them was named David. David Miscavige to be specific. And the Miscavige kids were raised inside of Scientology. David caught the attention of L. Ron Hubbard one day and was soon on Ron's camera crew.
*****
Fast forward: L. Ron Hubbard died and went to Hell. David, the asthmatic short kid who dropped out of high school to join the Sea Org, wrested control of Scientology away from the boozehound Pat Broeker; the felon Mary Sue Hubbard; and the lunatic, Marcab-Obsessed Captain Bill Robertson. It was not exactly like Dave had to fight with rocket scientists. He was fighting a pack of mean, inbred, chain-smoking, brainwashed deviates who worshiped L. Ron Hubbard as their God. David basically gave them a choice: He would have them all arrested for their crimes or they could take a big fat payday. Being Scientologists, they knew a good con job when they saw it and took the money.
David Miscavige became the new Dictator in Scientology. There is no one inside of Scientology who can check the absolute power of David Miscavige. I am often interviewed as a source for stories on Scientology. One question that I am frequently asked is this: Who owns Scientology? The answer is simple: David Miscavige effectively owns Scientology because he has absolute legal control of Scientology. DM's claim that he is only the "Ecclesiastical Head" of Scientology is utter nonsense; Scientology is David Miscavige. Because DM's best friend is Tom Cruise, Scientology reflects Tom Cruise more than is generally appreciated.
*****
Once DM took power over Scientology, he preceded to systematically destroy Scientology by gradient. In 2008, we are seeing Scientology in its Post-Collapse Era. Scientology's central collapse occurred in 2005 largely due to Tom Cruise's delightfully ruinous rampage, the details of which we do not need to recite here. However, this central collapse would have never occurred had not David Miscavige created the preconditions for it due to two decades of his cruelty, venality, mismanagement, and poor judgment.
*****
In this thread, we will look back at David Miscavige and the vainglorious world he created for himself. My thesis is that David Miscavige was corrupted by his unchecked power, narcissism, violent personalty, and an insatiable appetite for admiration and glory. Like LRH, DM wanted to be worshiped. In the end, it appears that he worships scotch and hates his Sea Org slaves more and more with each passing day, for they betrayed him and let him down. Sea Org is why DM never realized Ron's dream of Clearing the Planet.
As for Ronnie Miscavige Sr. Well, let's just say that he is in Sea Org and is terrified of his own son.
/////