Karen#1 wrote:
I feel for Michael as I review his story. I too, like a fool obeyed these draconian SUMMONS.
I too was ORDERED to the Flag Land Base some 6 months after leaving the Sea Org under threat of Declare.
And I obeyed ! My former CPA Jim Jackson had written a "KNOWLEDGE REPORT" on me. and even though it contained falsehoods ~~~ It cost me $50,000 to defend myself in further mind numbing sec checks. This was coupled with being in lockdown for donations between sessions. It was macabre, it was ghastly, it was a vampire experience.
I sat there meek and mild enduring it. Aaaaaaaaah my foolishness ! Adding more and more DEBT to credit cards to PAY THEM to POLICE POLYGRAPH ME ! "Not auditing you" sec checks !
They wanted me to write a success story on the dog's breakfast cycle. I refused. A SUCCESS STORY for police polygraphing for 50 hours.
!!!!!!!!!!!!!!!!!!!!!!!!!!!!!!!!!!!!!!!!!!!!!!!!!
As I refused to write a Success Story, they REFUSED to let me off the base. No success story = confined to the Fort Harrison.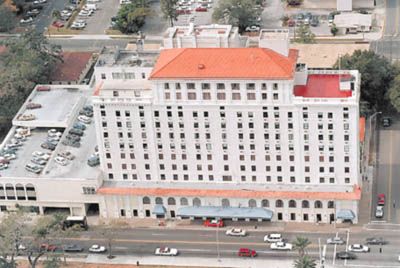 So I BLEW ! I had my own rented car and I fled. I knew they would pursue me at the airport...I knew the drill. So I checked into the Mariott at Tampa and stayed their a couple of days before grabbing a flight back to Los Angeles. My power was starting to return.
I came home and shredded my "CERTS" . I had this fabulous shredder I named JAWS. I shredded a lot of stuff. Symbolically that was helpful.
But I like to look at the brighter side. The glass 1/2 full. My 2 enforced trips to Flag were
draconian
and I got wise to the mechanics of Flag and how dark and vampire like it was becoming
way ahead
of the Internet reports.
I never returned.
I recalled another shredder named Jaws in Scientology history and came up with Laurel Sullivan's testimony in
Scientology v. Armstrong I
, LA Superior Court case no. C 420153 on May 24, 1984.
Attorney Michael Flynn is questioning Ms. Sullivan:
Armstrong 1 Trial Testimony wrote:
Q Now, in early 1980 do you recall the threat of a governmental raid?
A Yes.
Q And what was that?
A Well there had been a raid and it seemed that the Guardian's office had information from somewhere that there was another raid imminent, and their concern was that the Gilman Hot Springs property would be raided because at that time our security in our location was getting to be pretty well known, and what was going on there was getting to be pretty well known, and so they suspected that a target for an attack or a raid would be Gilman Hot Springs.
3053
At that time as an executive, I was briefed with other heads of the organizations at Gilman Hot Springs that that looked like it was going to occur and that we were going to go on kind of an all-hands alert to handle that situation.
Q And what was done to handle it?
A Well the major thing that was done was to get rid of extraneous material that might be taken in the shredding project.
Q And how massive a shredding project took place?
A Well, in the garage there was a top of the line shredder that we used to call Jaws which was a massive machine that went 24 hours a day.
There were also teams which buried material under the floorboards and in the grounds of the property which is about a square mile, an ex-golf course, 27 hole golf course. So they were out digging and that sort of thing.
Q What types of material was buried?
A Valuable documents that we didn't want to shred but which were so sensitive that they couldn't be found or seen.
Q Such as the Commodore's Messenger logs; were they buried?
A Yes.
Q What were they?
A They were a record of every order he ever gave
3054
on the ship and the person's response to it on a 24-hour basis.
Q And the orders while he was a La Quinta and Gilman Hot Springs, et cetera?
A Yes.
Q And those Commodore Messenger orders reflected the control mechanism of L. Ron Hubbard throughout
that period of time of Scientology organizations?
A Yes, in two ways, by substance and by pure volume.
Q What was the volume of it?
A Many ledgers, stacks of ledgers.
Q Approximately how many people were involved in the shredding process?
A Well, everyone on the property was involved, and at that time I believe there was about 180 people, but people who were engaged in the motor pool and grounds were, of course, didn't have very much material to go through, so they weren't involved for the entire time, maybe a couple of hours.
Q What were the ground rules or the criteria by which documents were selected to be shredded?
A Well, anything that indicated that L. Ron Hubbard controlled the church or was engaged in management was to be shredded.
Q Do you know why that was, Miss Sullivan?
A Yeah. It was so that if there was a raid, that no information about his control of the church would be
3055
in the hands of the opposition.
Q And do you know whether that had to do with inurement issues and money issues as to who controlled Scientology moneys?
MR. HARRIS: Objection; compound and leading.
THE COURT: Overruled.
Q BY MR. FLYNN: And incidentally at that time were you familiar with the practice of the board of directors giving undated letters of resignation?
A Yes.
Q And over how long of a period had you been familiar with that practice?
A Since approximately 1974 on the ship. I knew about OTC and I had heard comments about it earlier.

http://www.gerryarmstrong.org/50k/legal/a1/2480.php
And from the decision in
Armstrong I
June 20, 1984:
Judge Paul G. Breckenridge, Jr. wrote:
In January of 1980 there was an announcement of a possible raid to be made by the FBI or other law enforcement agencies of the property. Everyone on the property was required by Hubbard's representatives, the Commodore's Messengers, to go through all documents located on the property and "vet" or destroy anything which showed that Hubbard controlled Scientology organizations, retained financial control, or was issuing orders to people at Gilman Hot Springs.

A commercial paper shredder was rented and operated day and night for two weeks to destroy hundreds of thousands of pages of documents.
During the period of shredding, Brenda Black, the individual responsible for storage of Hubbard's personal belongings at Gilman Hot Sprints, came to Defendant Armstrong with a box of documents and asked whether they were to be shredded. Defendant Armstrong reviewed the documents and found that they consisted of a wide variety of documents including Hubbard's personal papers, diaries, and other writings from a time before he started Dianetics in 1950, together with documents belonging to third persons which had apparently been stolen by Hubbard or his agents. Defendant Armstrong took the documents from Ms. Black and placed them in a safe location on the property. He then searched for and located another twenty or more boxes containing similar materials, which were poorly maintained.

http://www.gerryarmstrong.org/50k/legal/a1/283.php
In cyber space, it looks like much the same thing is happening, an operation to shred evidence that Hubbard controlled Scientology and Scientologists, had the same financial control Miscavige has, and was issuing orders to people at Gilman Hot Springs, including orders to brutalize Scientologists and fair game wogs.
The point is that Karen knows Knowledge Reports and "police polygraph "sec checking are standard Hubbard procedures for people who want to leave. It's impossible that Karen did not deliver sec checking with the E-meter. Sec checking is a Class II skill, and Karen was a Class XII in the Sea Org. She has written highly charged and black PR language about the E-meter
while still promoting that she delivers the entire Bridge
, with an E-meter, of course. This is dishonest.
It is frankly cruel of Karen, and any other Scientologists, to continue the charade that Miscavige Scientology is black and Hubbard Scientology, and now Indie Scientology, is white. It is fraudulent, and she is benefiting from it.
I am grateful for whatever Karen says that is the truth. I cannot be grateful for her obfuscation and for her refusal to acknowledge Scientology's victims who have seen through the charade.