"CHURCH" OF SCIENTOLOGY
ABUSIVE TO THEIR MEMBERS.
SADISTICALLY ABUSIVE TO SEA ORG MEMBERS.
ABUSIVE of using Law Enforcement to ARREST members
who have spoken out.

AND ABUSIVE OF THE LEGAL ARENA

Perhaps this is one of the reasons Rupert Murdoch denounced the "Church" as Creepy and Evil.


Many Officers of the Courts have given blistering statements about the CULT of Scientology.
Here's a good one ~~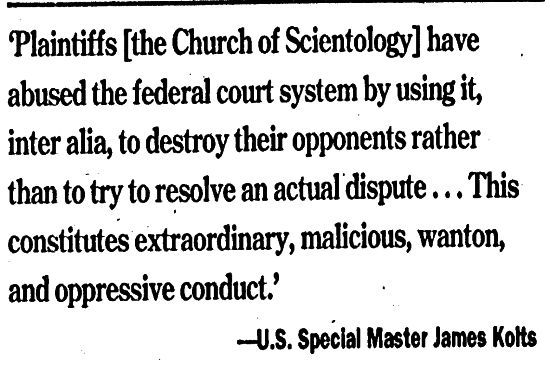 Last Friday was a dark day for the embattled Church of Scientology. A special judge in Los Angeles attacked the church in the most blistering terms possible, charging it with gross abuse of the judicial process in its unsuccessful lawsuit against the now-defunct Church of the New Civilization, the Scientology splinter group that operated 'The Advanced Abilities Center" in Montecito between 1983 and 1986.

U.S. Special Magistrate. James Kolts - the same retired Superior Court judge who conducted the recent investigation of the LA. Sheriffs Department--urged that the Church of Scientology be ordered to pay the defendants (the principals behind the Advanced Abilities Center) $2.9 mil-lion in attorney's fees. The Scientology lawsuit against the center had been thrown unceremoniously out of court last July, and only in exceptional cases are attorney's fees awarded to the prevailing party. But according to Kolts. this case has been nothing if not exceptional.
Karen de la Carriere
Karendelac@gmail.com