J. Swift.
Dazzling images. Yes, there is a lot of Fantasy.
I would like to comment on the E-meters.
In every facet of Scientology delivery there is ABUSE.
And so it is with Emeters.
In 2002 a team of Sea Org members were put through EXTENSIVE sleep deprivation in order to produce and beta test the new SUPER Mark VIII Emeter that the faithful flock were going to be further fleeced for.
A mere $4000 more.
The "New Mark VIII Ultra E-Meter." Getting there required hundreds of prototypes, designed, produced, and tested by auditors at the Int base. (Hardly any left NOW)
The meters were made in Japan. They have been sitting in a warehouse getting corroded since 2004.
Swifty, did you not do an analysis on what happens to aging electronics stored in a warehouse ?
Here's the Super Mark VIII !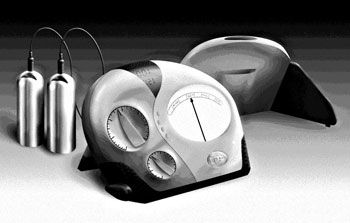 Will that be check, cash or VISA/Master card ?