ref:
http://www.scientology.org/en_US/l-ron- ... index.html
At the official Scientology website, LRH's latest biography is offered. We are told:
At the end of 1923, young Ron traveled to Washington, D.C. via the Panama Canal, meeting Commander Joseph C. Thompson of the U.S. Navy Medical Corps. Commander Thompson was the first officer sent by the U.S. Navy to study under Sigmund Freud, and took it upon himself to pass on the essentials of Freudian theory to his young friend. Through his friendship,? Ron noted, "I attended many lectures given at naval hospitals and generally became conversant with psychoanalysis as it had been exported from Austria by Freud.
Scientology tells us that a US Naval Officer took L. Ron Hubbard to lectures on Freudian psychotherapy in 1923 when Ron was only twelve years old. Freudian psychotherapy deals heavily with human sexuality and sexual repression. Why was an adult male taking a twelve year old boy to lectures that dealt with human sexuality and Freud's graphic descriptions of sexual repression and sexual acts? This would today be viewed as a singularly unhealthy and unnatural relationship between a man and a boy. It suggests that Commander Thompson could have been a pedophile who was grooming young L. Ron Hubbard for sexual molestation. If Hubbard was sexually molested by Commander Thompson it might explain Hubbard's adult behavior. As one author says:
Many untreated survivors of severe childhood abuse appear to spend considerable time and energy balancing trauma-related distress and intrusion with avoidance mechanisms such as dissociation, externalization, or substance abuse
Was Dianetics and Scientology, in some way, LRH's attempt to heal himself of having been molested? Dianetics and Scientology are all about "energy flows" or, "energy balancing of trauma-related distress and intrusion." LRH did exhibit, "avoidance mechanisms such as dissociation, externalization, or substance abuse." Scientology is all about dissociating from "wog" reality so perhaps Ron needed to create an alternate reality where he was all powerful and could never be abused again. Hubbard also externalized all of his threats: The FBI, aliens, English Bankers, etc. -- Ron may have well externalized all of his pain into SP's. And what if Fair Game is an expression of Ron's need to destroy people he had unconsciously externalized so that they represented the man who molested him?
Could a phenomena Ron called "snapping terminals" have caused Ron to dress as a US Navy Commander in his later adult life because he was molested by a US Navy Commander?
Is this a possibility?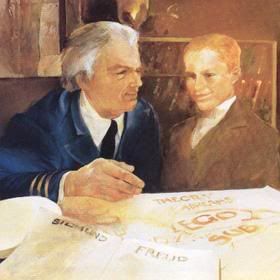 This is all very disturbing. L. Ron Hubbard wanted people to believe that he had become, "conversant with psychoanalysis as it had been exported from Austria by Freud? at age twelve through his "friendship" with an adult male authority figure. But maybe there was more to this? Was Ron covering up for his abuser as many children do when threatened with violence by their abuser?
Let me ask you this if you are a parent: Would you allow your twelve year old son to attend lectures about human sexuality that discussed explicit repressed sexual content with an adult male?
What are we to make of this matter? On the one hand, Scientology is out to destroy psychiatry, and yet as others have pointed out, L. Ron Hubbard clings tenaciously to Sigmund Freud - the greatest psychiatrist of all time -- in order to establish his authority as an expert in the human mind. On the other hand, the way in which Hubbard establishes his expertise in Freudian psychoanalysis is either very disturbing or it is a lie. Did L. Ron Hubbard learn about psychosis tragically and firsthand as a victim of Commander Thompson?
****
Is this section of Hubbard's biography just another lie in the endless series of lies told by L. Ron Hubbard? Are we to believe that a twelve year old boy in 1923 could grasp Freudian psychoanalysis? Are we to accept that an adult male exposed the twelve year old L. Ron Hubbard to the sexually-laden content of Freud innocently?
This whole story is suspicious and disturbing on so many levels and yet Scientology presents it all as if it were remarkable. What is remarkable is how disturbing this episode is if it is true.
/////