The curtain rose and the show opened with an awesome drum solo. This guy on the drums was an extremely impressive drummer. He was joined by drummers on either side of him. Drums are a great way to open a show because they infuse so much tribal energy into an auditorium. In this case, the drummers were flowing power to the Tribe of Scientologists who would spend the evening offering endless standing ovations for everybody and anything that was said.
The drum piece sequed into an instrumental. There was a full jazz/rock band on stage with a brass section and a small choir. A very attractive singer who reminded me of a young Tina Turner took the stage. She was backed by four female singers and they began to sing Scientology songs. It is a real disjunct to see a Vegas-level lounge band -- and by that I mean a very good band but not a great band, except for the lead drummer -- accompany a singer who belts out obtuse and pedantic Scientology lyrics. It is like Christian Metal or Jewish Rap; it just doesn't connect unless one is a true believer.
A rap artist then walked then down an aisle and took the stage. He began rapping to the crowd and performed a piece in which he tried to convince an auditorium full of largely white people, such as myself, that we could rap. So we rapped and it was really embarassing. A bunch of white suburbanites rapping is just not something a producer should allow in any show. That was a moment I wish to forget. However, I cannot. I had to fit in with the crowd and so I rapped along with the crowd. But what the heck? In for a penny, in for a pound.
******
Golden Era Productions staged and produced the event for maximal recording value. The stage was well-lighted and there were many moving head/color changing lighting fixtures and the usual assortment of par cans with gels on them. While the stage looked great, I must say that the staging has become formulaic because all of the New Year's Eve events have all looked the same for many years now. They are all a variation on this theme that puts DM between columns and pillars: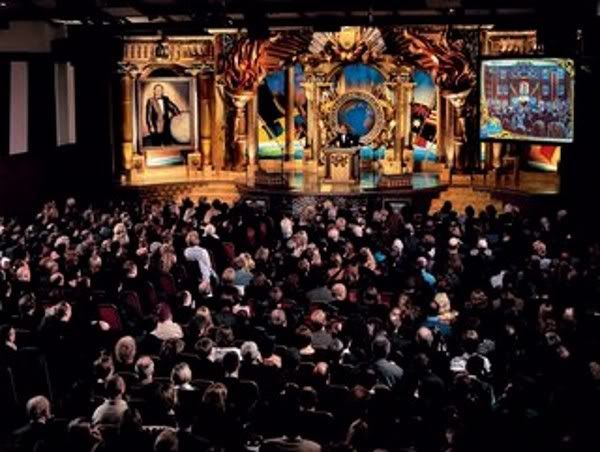 The stage was basically the same this year. It is getting old and now has a "been there, done that" dullness.
Note to DM: I suggest a change in staging because the cultic columns and pillars really reinforce the image of you as an evil Cult Leader. Ditch the formulaic staging and try something new in 2008. I recommend that you descend down onto the stage while riding one of the Incident II chariots. The other chariot would accompany you down from the heavens. You would turn right and land center stage while the other chariot carrying the decrepit Heber Jenztsch would turn left and disappear into a cloud of stage fog. Then a trumpet would blow and you would appear to the audience dressed as a cherubim. If this "chariot bit" doesn't get the audience into full blown restim and enrolled into the "GO OT!" program, nothing will.
Trust me on this Dave: You need to run the audience on chariots and Incident II next year. I have a sense of the dramatic and just know this from my guts. Dave, heed my advice. I will even produce the event in '08 to ensure your flubless descent from heaven via
deus ex machina
.
*****
All of the staging and props looked great and were well constructed. This is all professional grade work, unlike the old days when Scientology didn't understand that it took a lot of money to make a production look great on video. I think that for some years DM was stuck in the production values Ron had taught him, which is to say production values of this quality: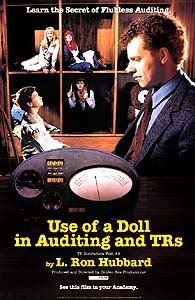 "Use of a Doll in Auditing and TR's" is listed in LRH's "filmography", and I use the term loosely. Over time, DM spent money and Golden Era now produces a high quality product from a technical point of view. Unfortunately, Golden Era's content is all about Scientology, LRH, DM, and Ideal Orgs and so we are regaled with high quality dreck feauturing Remastered Ron:
Or DM on DVD showing Golden Era's Remastered Ron films: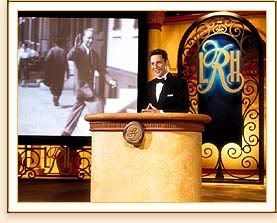 LRH and DM: That is the Circle of Life in Scientology and New Year's Eve 2007 was all about "Remastered Ron" being sold by DM.
******
Golden Era had placed a camera platform in the center of the Shrine auditorium. The platform was equipped with two professional-grade digital movie cameras and a still photograpgher. The production center was situated behind the camera platform. The producer and his assistants worked several professional-grade consoles. They also had several flat panel displays and laptops all of which displayed digital video and audio levels. There was a third digital camera to the left of the production center. A fourth smaller digital video camera was mounted on a boom stage left almost underneath the gigantic photo of LRH that dominated the room.
The boom camera swept the crowd all night. DM probably wanted to capture all of the standing ovations he got so he could send the video to Tom Cruise with a card that read, "Tom, I got thirty standing o's last night. What was the largest number of standing o's you got in one night in 2007? Two? Three? Please advise. Much Love, Dave."
*****
I counted twenty production people. There were more, but they were backstage and in other places.
Aside from the Golden Era production people, there was a huge stage crew of at least fifty people. I saw the stage crew eating pizza on the landing above the Shrine pavillion at about 6:15 PM. They had just finished before the doors opened at 6:00 PM and were finally allowed to eat. There were what looked like two hundred boxes of pizza stacked on some tables and the stage crew, all dressed in dark pants and t-shirts, looked beat. DM needs a lot of staging and the set was complex. There was a lot of assembly and logistics work on the stage, in the pavillion, the big tent outside, and the reg tables. This event took at least 200 people to produce, including at least 50 salespeople and regges on the pavillion floor, the tent, and the gauntlet outside all the way to the parking garage.
******
A large picture of LRH hung from the ceiling of the Shrine. LRH's photo was placed stage left dominated the auditorium. LRH is God in Scientology and I don't care how much Scientologists protest this characterization. LRH is God and you have to get that to understand the Cult.
Mr. Hubbard, as DM calls him, may not be formally worshipped like other Gods, but his word is law and he was the reincarnation of the Buddha according to Scientology.
LRH was omnipresent at this event. There were several huge photos and his face was on thousands of the new release DVD's that I will discuss in my next installment.
/