The event featured DM and two other speakers whose names I have forgotten because, well, they were statbots who were fronting for the Cult's notorious front groups. Thier job was to rapid-fire stats at the audience and say that Scientology is great and that the Cult is expanding as fast as Ron's appetite for drugs, booze, and espionage did in the 1950's when he began to make serious money.
The first speaker was a very attractive and sophisticated woman who spoke about the massive successes of Narconon and Criminon. She was an engaging speaker at first but then she got lost in a muddle of stats. Look, let's put our cards on table: It would be hard for anyone to enthuse about Scientology stats as related to drug addicts and criminals for very long before the evil and sorrow of those worlds affected you. I think this woman got lost in stats because that is the only safe place to hide inside of Scientology. Hiding inside of stats allows the execs to ignore the moral depravity of what they are truly doing to people.
I tuned this speaker out because it was revolting to contemplate DM and Scientology profiting from human suffering. Scientology decries the human condition, and yet it profits from the suffering in the world while advocating the violent destruction of psychiatry and hiding LRH's call for a genocide of that 2.5% of the world's population whom Ron determined should be, "Diposed of quietly and without sorrow." Compounding its hypocrisy and violent bent of mind, Scientology gleefully exults in stats about how it profited from the carnage caused by drugs and crime. I tuned out and studied the cameras, consoles, and lighting. Scientology is dark and disturbing when you see it up this close. It is made of people who have been programmed to produce stats no matter what. They are programmed to destroy whatever is between them and their stat.
The second speaker was a gentleman who discussed WISE, ABLE, IHELP, and some other front groups. He was dull. I'm sorry whoever you are, but you were as dull as Listerine.
I hate to compare this speaker to an antiseptic mouthwash, but that is all that comes to mind. His presentation was far less interesting than a discussion of dental plaque and its treatment.
I tuned him out right away and began to study people as they sat in their chairs. A general malaise and lack of free attention units had developed in the crowd and yet no emergency auditors on VM's were on hand to help with the pandemic of boredom in the Shrine.
I could sense that the tone level was at boredom and that people were struggling to go higher on the Tone Scale. And yet... Mr. Dull was droning on about something and could not end the cycle until he had finished his script. It was if as if the audience were all children being forced to eat all of the brocolli on their plate.
*****
After the speakers had finished, DM came back onstage to promote this year's new release.
You guessed it! It is a DVD re-release of a 1980's Scientology release of LRH's 1966 Rhodesian television interview.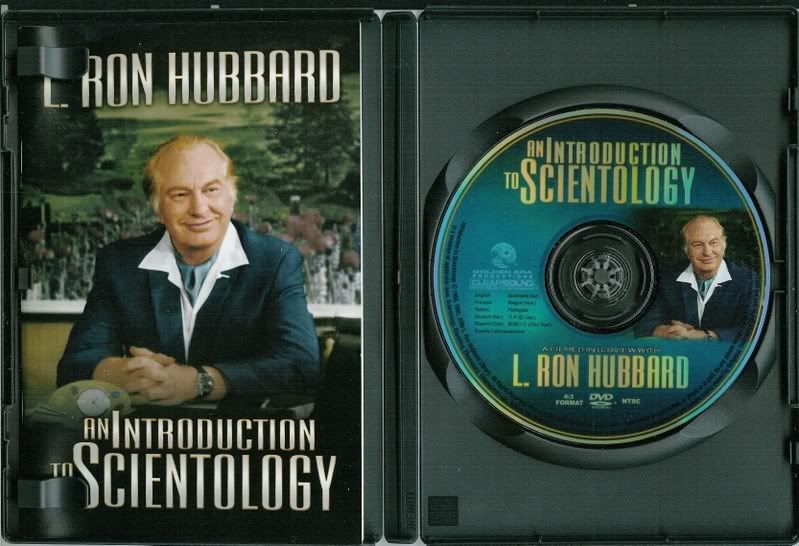 *****
DM went on at length about how much restoration work this DVD took and showed some before and after shots. DM then said that the color on this restoration was based upon self-portraits LRH had done of himself. DM said that getting color just right on film was important to LRH and so the self-portraits allowed Golden Era to have some registration values for the restoration. DM said that over one million specks of dust were removed from the original and that he knew this because dust specs were a stat on the restoration. Can someone say anal retentive?
DM then dropped what has to be yet another Dan Sherman turd. DM claimed, incredibly, that LRH's knowledge of color and film was so immense that both Kodak and Polariod routinely contacted LRH for advice on color. Yeah right, Dave. Kodak and Polaroid contacted the guy who was shooting this level of work:
*****
The night ended with us shouting "Hip Hip Hooray" to LRH's photo. This most sacred Scientology ritual works as follows:
1. Everyone stands up as the spotlight shines on Ron's giant photo.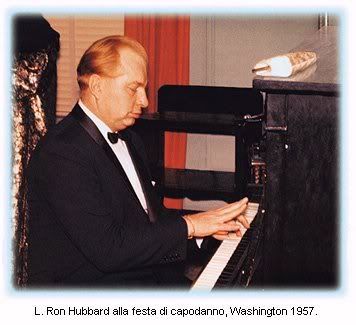 2. DM shouts, "HIP HIP"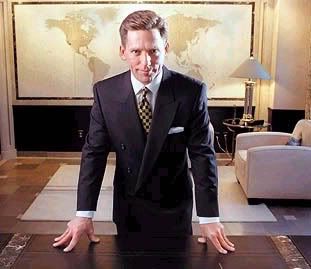 3. All hands yell "Hooray!"
This is repeated several times to vgi's, and then the crowd is dismissed and must run the gauntlet of hungry hard-sell regges waiting outside.
/