Quote:
Hmmm...Now why weren't you calling for Quaoar's ban when he splashed JAs details ALL over OCMB???
Emma, the internet is all one, we all read the same boards. I know you know this. If someone is outed over on ARS, they are as good as outed here. That's what happened. It's a very simple, unarguable fact and concept. The fact that you cannot or will not comphrehend that, leads many to suspicion as to your motives, level of residual brainwashing, etc., etc.

Amazing and telling that you "credit" Quorar rather than the hydra-headed sockpuppet extrordanaire Prevail/HeartOfOak/Kusinagi's Ghost/Jun-Riu with outing Swift. Who is Prevai/KG registered as at your new daisy chain?



Is it Tachikoma?
Quote:
Is it If I recall correctly I was the only one upset about it. None of you lot cared one bit. Now because tigger has asked the question you get all up in arms about it. Tigger wasn't the one to put his details here. It was one of the "boyz", so knock of the transparent horror.

It's a perfectly valid question seeing all the *speculation* about how this would ruin old Swifty's life.

You whined ceaselessly about "poor Swift", yet didn't bat an eyelid when Quaoar posted his details. We see that OSA had access to his name & address thanks to Quaoar, and what with Swift being such a HUGE critic, they wouldn't overlook that minor detail AND INVITE HIM TO A BIG EVENT!!!
There is a myriad of possibilities as to how and why J. Swift would still be receiving IAS invitiations. Nuanced thinkers easily speculate to themselves, run over the possibilities and dismiss the whole issue as not worth spending much time on. Plodding, slow, stupid Scientology addled brains have trouble imagining the many real possibilities of how this could occur.

WHAT GOOD PEOPLE OBJECT TO IS TIGGER OR ANYONE THROWING REAL NAMES AROUND MESSAGE BOARDS!
Quote:
None of it adds up, but you are so overjoyed to see your "brain by proxy" return, you can't see the holes in this story.

And if Swift verifies he is NOT JA, then I think some apologies need to be handed around. Don't you?
No, I don't.
You know, Emma... fool that I was, I was just starting to get
an inkling
of respect for you as the start up person for a new message board. And then here you are over on OCMB, wallowing in the mire of probably the most scurrilous thing that has happened on this message board. Ooops..
I almost forgot!
You
were one of the architects of it all! So this makes perfect sense.
We all remember: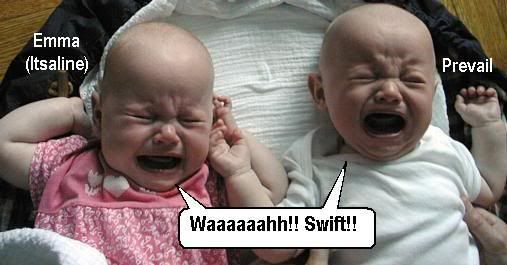 You had the oppurtunity to rise above all this Emma and just be the leader of perhaps a good new thing.
And you fucked it up.
Character always shines through, I guess.
You need to banned and quarantined to the Pan-Pacific Butch Network!