Wieber wrote:
JS, please, devote some of your time to answering Arnie's question about flashing lights and other hypnotic devices. That's what I'm curious about.
Scientology did not need to use very many hypnotic techniques at its New Years Event because most people attending had already been conditioned and controlled long ago by Scientology. They had already been "worked on" in session, during sec checks, ethics and other handlings, and by their Case Supervisors. Scientology had isolated most of these people long ago from any influence in their lives that was even remotely critical of Scientology. Many of these people were very likely in deep financial debt due to Scientology. Their families were likely in Scientology so they could never leave unless they were willing to endure Disconnection. Most people attending needed and wanted to keep believing Scientology because they did not want to lose their families, their eternities, and face the possibility that they have believed a lie and been used by a cult.
The evening was just a reinforcement of Scientology's preexisting mind control the hypontic/euphoric effects of auditing. DM was not seeking to make converts that evening. Rather, his job that night was to preach to the choir and tell the assembled Scientologists that Scientology was everything they needed and wanted it to be and that it is winning in the world. DM had the crowd in his hand before he ever walked on stage. All he needed to do in order to win big that night was to reassure the crowd of Scientology's massive 2006 expansion and its inevitable global conquest.
*****
What were the hypnotic effects used?
The initial effects were based upon suggestion.
The hypnotic suggestion began with the phone regges promoting this event as one that would contain a major announcement by COB RTC. This intrigues people. What will be said? Will the announcement be about the reincarnation of LRH? The destruction of psychiatry? The opening of the Super Power Building? A powerful new convert to Scientology? The hypnotic suggestion continued with the fact that people had to pick up and sign for tickets. That created an aura of "insiders only", of high security, and of great anticipation for the major announcement. The presence of David Miscavige himself added to the aura because he is the global leader of Scientology. I was thinking that DM would bring TomKat and introduce Suri to the group. After all, DM and TC are best friends and so the celebrity factor creates an aura, and the power of celebrity had long been a potent factor in Scientology. But it was clearly not a factor at this event.
******
As you walked into the Shrine, the main pavillion was festively decorated with wide swaths of billowing yellow fabric descending from the ceiling to the second level. There were stage lights mounted on the second level that shone down onto the floor of the pavillon. There were tables all over the pavillion that were laden with the new DVD release of LRH. The energy of a major Scientology event was in the air. The power of being a member of this group was palpable if one was already conditioned and controlled.
The hypnotic "groupthink" burst forth with the powerful opening drum solo. Drumming creates a great deal of energy and excitement. Drumming can simultaneously serve as entertainment and to produce an effect on a group. The band and the singers acted to add a sense of group coherence. The modern "electronic church" experience depends upon amplified music, big screens, and moving, color-changing lights. In this sense, Scientology did nothing different than a modern day church. The modern electronic church experience exerts a powerful influence on people that is designed and intended to alter consciousness and open people's hearts and pocketbooks. That is why churches spend so much money on electronic entertainment equipment. There are magazines and trade shows devoted to the modern "electronic church" experience. A recent trade show attracted 3,000 attendees:
http://www.ehpub.com/news/16492.html
*****
Arnie, there were no strobes or pulsed lights used. The auditorium was rigged for a typical stage show and nothing irregular stood out to me. This was just a typical stage show that a professional stage designer could do in his or her sleep. In my opinion, there was nothing at all unusual. In fact, DM's dramatic staging is far less impressive in person than it is in print. One also notices that his podium is smallish. However, to my earlier point, the crowd had already been conditioned and so some drumming, music, and lighting served to raise the hype for DM's appearance. The obligatory gigantic photo of Ron dominated the room.
I wish I had more to report, but Scientology only had the Shrine for one night and then they had to strike the set. There was only so much that they could do. Given that some non-Scientologists would be there, Scientology would likely not risk any tricks at a semi-public event in a town where a lot of people work in the movie business and are savvy to tricks. I say that and yet DM employed a cartoon hand grenade in a semi-public presentation and so maybe I am naive and there were hidden tricks that swept right past my radar.
******
Scientology does virtually all of its deadly work behind closed and locked doors. This next photo shows a senior case supervisor watching all of the auditing sessions that are being recorded and permanently stored. What Scientology does everyday behind the closed and locked doors of its own facilities is far more frightening than anything it could do in one evening in a rented hall.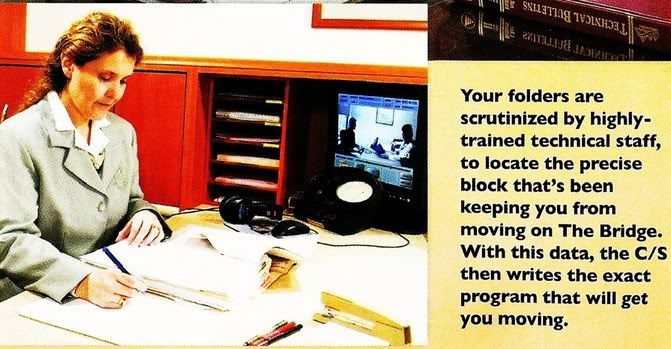 /