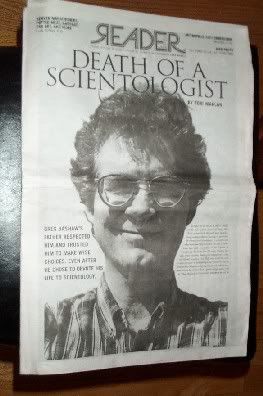 From: "Magoo" <magoo44@Charter.net>
Subject: Letter to Chicago Reader: Scientology suicides
Date: Mon, 19 Aug 2002 13:11:35 -0700
(To someone at the Chicago Reader. I'm not saying who, as it will just give OSA a heads up on who to write about me.)
Having been in Scientology for 30 years, and now out, and having known now 5 people personally who have killed themselves (each in Scientology, or wanting out) I cannot thank Tori Marlon and the staff of the Chicago Reader enough for writing the article about Greg Bashaw.
JimDbb posted much of it on a well read newsgroup where people both "in" and people considering joining often read. One of THE most tragic things about Scientology is they break up families, over and over again. They also hide facts from people, deceive them, and refuse to let them get ANY outside help.
People need to read this article and HEAR what happens, blow by blow. This story is truly an honest account of one man who lived trying his hardest to believe and do what he thought needed to be done, and taking his own life due to frustrations he could not overcome.
Again, having known 5 people now -- 4 young men, who have taken their lives -- I am asking you to please don't make Jim take this article down.
Many of us have Web sites up telling the factual other side of the story. I would suggest that you all allow this to be posted. It is truthful and honest, and people should have the right to know what their children are getting into, on both ends.
I used to be the ED of what is named "The Scientology Parishioners League". Our entire purpose was to stop any kind of communications such as these, for these commuications are supposedly "against freedom of religion". I realized while doing this they are actually mostly telling facts Scientology doesn't want known, and if you look at it honestly, C of S (Church of Scientology) has to be against Freedom of Speech to stop these communications. Soon after I left, after being in for 30 years, and doing much of what Greg did.
I grew up in Chicago, and the media has always been strong in telling the facts, and not getting pushed around by others. Please keep this long standing history in tact, and allow this article of Greg Bashaw to be posted publically.
It just might save someone's life.
My thanks to you all
Tory Christman
(Daughter of Paul Christman, used to be #44 of the Chicago Cardinals
many years ago
)