This needs spreading:
Happy Days, posting on ESMB, wrote:
Media Alert: Slater & Gordon Investigates Class Action over Scientology Wages Claim

I have been working with Slater & Gordon along with Nettie and James and this media release has just been fired nationally. All before Thursday 2 and now bring it on

Just to add that there were other players as well including Cherished, Feral, Deano and others who provided valuable information throughout this process.... thanks to all ...
Source, ESMB:
http://www.forum.exscn.net/showthread.p ... ages-Claim
Law firm website:
www.slatergordon.com.au
Other discussion:
whyweprotest.net
http://forums.whyweprotest.net/threads/ ... aim.93713/
For immediate release: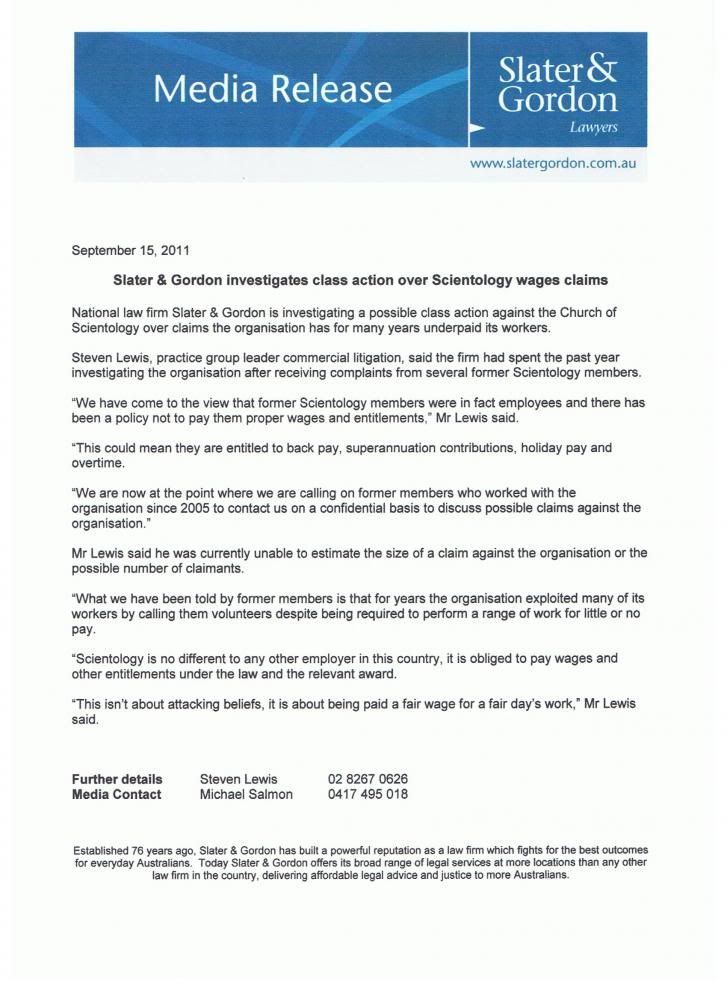 Plaintext copy:
--------------------------------------------------------------------------------------------------------------------

September 15, 2011
Slater & Gordon investigates class action over Scientology wages claims

National law firm Slater & Gordon is investigating a possible class action against the Church of Scientology over claims the organisation has for many years underpaid its workers.

Steven Lewis, practice group leader commercial litigation, said the firm had spent the past year investigating the organisation after receiving complaints from several former Scientology members.

"We have come to the view that former Scientology members were in fact employees and there has been a policy not to pay them proper wages and entitlements," Mr Lewis said.

"This could mean they are entitled to back pay, superannuation contributions, holiday pay and overtime.

"We are now at the point where we are calling on former members who worked with the organisation since 2005 to contact us on a confidential basis to discuss possible claims against the organisation."

Mr Lewis said he was currently unable to estimate the size of a claim against the organisation or the possible number of claimants.

"What we have been told by former members is that for years the organisation exploited many of its workers by calling them volunteers despite being required to perform a range of work for little or no pay.

"Scientology is no different to any other employer in this country, it is obliged to pay wages and other entitlements under the law and the relevant award.

"This isn't about attacking beliefs, it is about being paid a fair wage for a fair day's work," Mr Lewis said.


Further details Steven Lewis 02 8267 0626
Media Contact Michael Salmon 0417 495 018





Established 76 years ago, Slater & Gordon has built a powerful reputation as a law firm which fights for the best outcomes for everyday Australians. Today Slater & Gordon offers its broad range of legal services at more locations than any other law firm in the country, delivering affordable legal advice and justice to more Australians.
-------------------------------------------------------------------------------------------------------------------
Other useful remarks from that ESMB forum thread:
Outethicsofficer, poasting on ESMB, wrote:
Re: Media Alert: Slater & gordon Investigates Class Action over Scientology Wages Cla
A lot of work has gone into this over these many months this, and this rolled out of the Four Corners program which was aired in March of 2010.

We were contacted by Slater and Gordon, they wanted to know more with a view toward what could be done, the direction was not set in the early stages however it was starting to get a compass bearing and in the end the needle sat firmly on North, that being Slater and Gordon would act on behalf former staff member in a Class Action to Claim Wages. It is their contention that the C of S is no different to any other employer in Australia.


Hats off to Happy Days, she has been a major point of communication for Slater and Gordon. Without her assistance they would've had a much harder job of this.

James

Edit: Contact the phone numbers in the OP for more details and register your interest in this action all calls are strictly in confidence.