Crosspost from WWP:
Epic raid, Scientology opened their "Ideal Morgue" in Santa Ana and protestors were on hand to mark the occasion. Much lulz and enturbulation were had by all and creepy goons were out in full force to try to intimidate and bother, failing miserably all the way.
We met on the north side of the event, several streets were closed down. The availability of parking meant that many public Scientologists had to pass by our little rebel alliance, where they were treated to the latest news that their "church" isn't telling them, i.e., the closure of Narconon Trois-Rivieres and Lisa Marie blowing the cult among other items.
The cops met up with us and gave us the ground rules for protesting (no tunes, alas!) and were pretty cool, though apparently they harassed Smurf early on at the direction of the Scilons (fail!).
Interaction with OSA goons was limited to them filming and attempting (and failing!) to follow us, also had a couple of them attempt to pass themselves off as curious bystanders, but their binders bearing Scientology logos were a dead giveaway, lol!!
We also had some newbies show up, welcome to the party!!
Here's some pics, I might post some video of Miscavige's "speech," but I think he even put my camera to sleep. And I won't even mention what their "band" did to the Beach Boys (trying to push the OC theme). Oh, the horror!!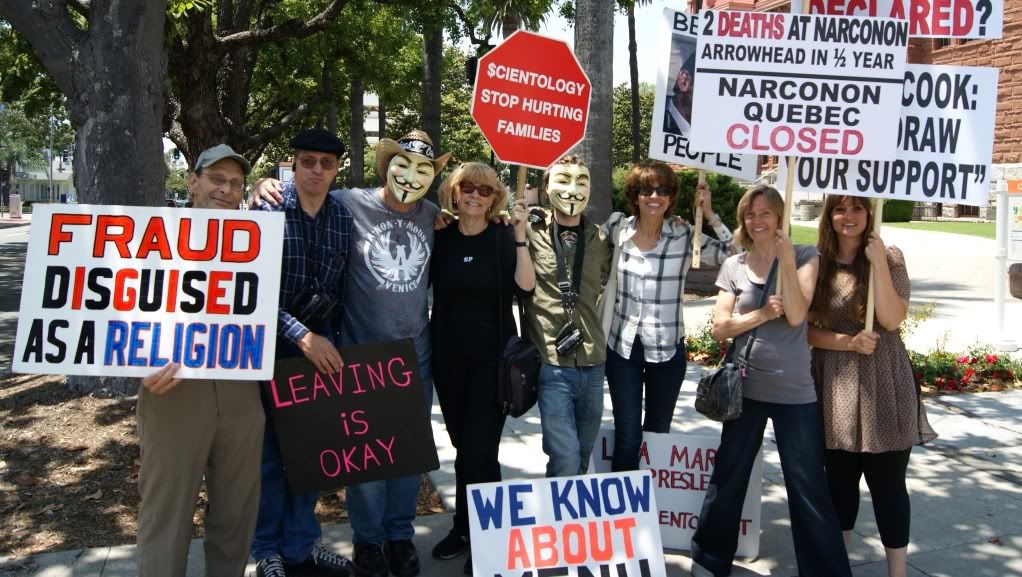 And Newbs!! Love the color signs!!
Creepy Scilon photog is creepy!! Make sure you get my good side though!!