The pictures arrive!
They are down below, but I have a few things to add.
There was one thing that was SICK and TWISTED that happened that I was just flabbergasted at. While passing by the door, I saw a couple of little boys there with coursebooks in hand. I felt sad, then moved on. After five minutes or so I was talking to a passerby and I heard "Ma'am? Ma'am? That's not true." I look to my right and there are the two boys
with no adult with them
. They sent the children out to do their dirty work. I couldn't believe it. Well naturally I wasn't going to say anything critical to them. I just said "Well I'm exercising my free speech. Say, look at that toy you have there? That's neat." And got them a bit distracted.
I was so upset that they sent those kids out to us. I got so mad at that.
The $cns there were pretty funny though. This guy came up to us pretending to be a passerby (he came from behind us) and started asking questions. It was SO OBVIOUS he was a $cn. So sad, but you can tell in their eyes and the body language. When "Don" was handling us, his eyes just looked so sad and dead. I wanted to cry. So this guy asked us questions (they all ask the same thing...have you known someone in the church? is this first hand experience?...then he finally said. "Well I'll just go in and see for myself" and kind of laughed. I took the tone to mean "Bet you didn't know I was with them!" I knew as soon as I looked at him LOL. Sad.
I smiled proudly for the cameras that came out. She asked me to turn my sign around so that the "Slanderous" statement was showing ($cientology Kills).
It was an overall great experience. I talked to so many people. I'm always so shy and introverted and being back in my home and in my own little world I can't believe I did it.
Oh...another question they asked a few times was "What organization are you with?" "Are you getting paid for being here?" I said, "I'm just here as a concerned citizen."
Another man with his son (I assumed it was his son) came up..pretending to be a passerby too. But his questions were the same, so I think he was $cn. As they walked along afterwards I saw his arm around his son with his head bent toward him as if speaking to him. Probably saying we were liars and were criminals. Made my heart sad.
A funny moment was some woman was passing by. Rough looking older woman and she saw our signs and said in a real disgusted voice "Scientology, oh
that
crap!" and walked on. There were so many people that agreed with us.
Quite a few people thanked us for being out there and said they admired us for what we were doing. It was such a good feeling. Some people clapped as they passed across the street...people gave us thumbs ups...it was great.
But more importantly we got the message out. A lot of people did think it was just alien stuff and that's it, but we got to tell them about the darker side and passed out a lot of fliers.
Now on to the pics!!!
What would a picket be without getting your picture taken??
funkmr ready to go: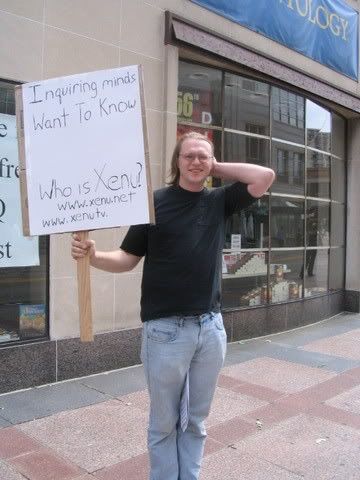 Guess they have no money to fix their windows (sorry about the glare...hopefully you can see the cracked glass at the top and bottom):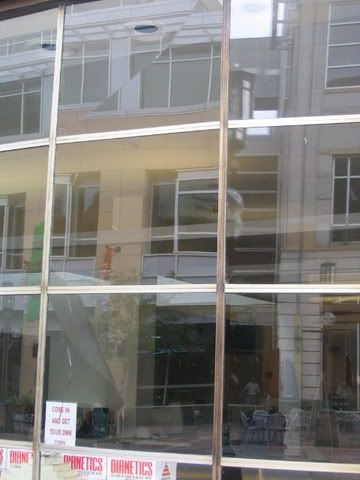 funkmr: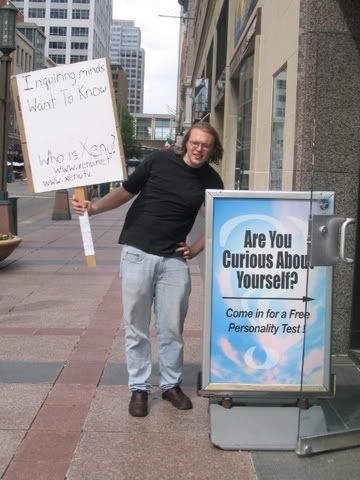 Me (ladyhawke):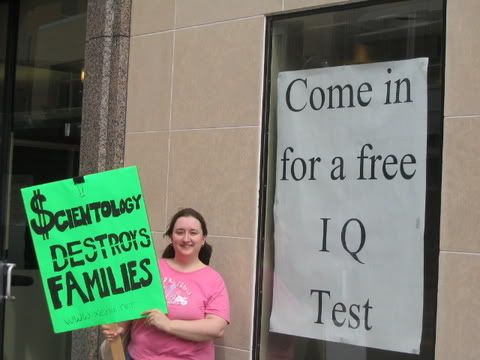 funkmr with "Don":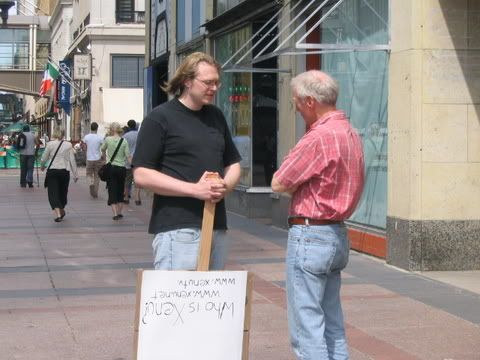 I was feeling left out so he talked to me next: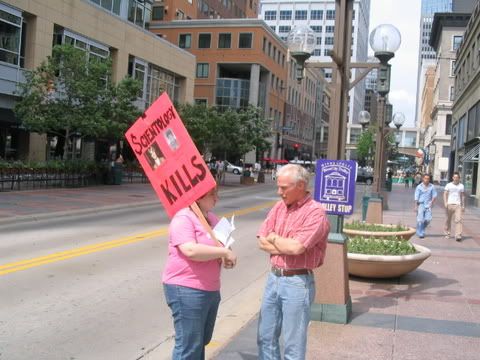 And these were the last people we talked to. Personally, I couldn't figure out if they were $cns or not...