Laura DeCrescenzo has been in litigation with the Church for years.
Kudos to Laura for hanging on in there.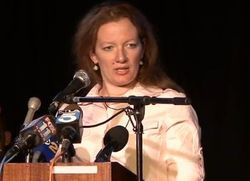 This is a girl who swallowed BLEACH to get out of the mind control "Rehabilitation Project Force" designed to make you rethink your "enemy lines" or thoughts which do not align with Management and Miscavige.

She was pressured to have an Abortion, just one girl of literally thousands who suffered wholesale baby slaughter for 25 years.

The "Church" in their continuous lying propaganda LIE they actually enforced these abortions !

The reality of coerced abortions

In 1997, in response to the high volume of Scientology staff sent to have abortions, the head of Planned Parenthood in Riverside, CA (Janet Honn-Alex) said, "I just felt that it was strange that they would all make the same decision. Independent of their individual circumstances, they had all made the decision to have an abortion, no matter how old they were or how many children they already had. We found that almost unbelievable. And when we started asking more questions, in order to find out their individual motives, because we were suspicious, they stopped coming to us altogether."
A Major development where Laura waived Priest/Penitent privilege and the Judge ordered her to turn over her pc folders.
Read more on Tony's blog~~
http://tonyortega.org/2013/03/20/scient ... #more-5256