I wanted to take a quick few minutes to post excerpts of this Email just received.
I am in a firestorm of activity but wanted to get this on line.

(Posted with permission)

1 October 2012

Dear Karen,

First, let me share my condolences. I am truly sorry for the loss of your son. No words will ever be enough to comfort you in this time, but know that despite it all, you are still loved and you are valuable.

I am not declared, but im sure I will be soon enough.

Im pressing charges against a scientologist who molested my daughter when I was a staff member. He is still in scientology with his wife and other family on staff, so the church's Dir I&R, (kylie Roe) decided that since I was no longer a scientologist, they would not be interviewing him.


The ED, Ed Dearborn then requested I be comm-ev'd from post for allowing his only introductory auditor to moonlight. The Cope Off at the time, Holland Mattison, then started to gather "evidence" on me to apply ethics gradients to remove me from post. When I caught wind of this, i requested a comm-ev myself to verify and nullify any accusations of my qualifications for HCO.

During the comm-ev, I remained on post and fund raised for the new building. When the recs came back, I was immediately dismissed from staff and given 6 months to handle (which means paid off) my husbands back tax debt, (which is currently being paid and will be for about another 10 years as the DSA OC Marie Murillo, told us that we had to file ALL the back taxes when legally, all we had to do was 3 years back) or be labeled a criminal with absolutely NO criminal background ever. I grabbed my certs, meter and books and RAN!

Last month, when my daughter finally confessed to me that she was molested I wrote a report, as did her father, to the Church of Scientology OC. I am pressing charges against this sex offender and i will name him now... (MARC RENARD)... and I am going to make it known that the church of scientology in orange county is harboring a sex offender (that has done this a few times now, not to just my daughter),

and is not alerting the public or officials to keep the staff, the orgs children, public and scientology public informed of this criminal behavior to keep them safe.

In the interim, my oldest son joined and left staff rapidly, he confirmed that all they did was fund raise, Ive sold my meter, threw all my books away (cause I was told they were not valid), scrapped my "clear bracelet".

<smip> <smip>

Maggie M

This habit of the "Church' covering up sex offenders and molesters is despicable and has to stop. Alexander Jentzsch was having sex at 12 years old in Clearwater...all covered up and right now, in 2012, it sounds like they are still covering it up....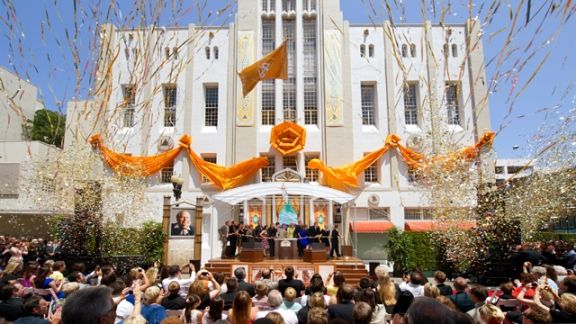 Here's the rah rah of the OC "Orange Country" "Ideal Org" purchased by the rip off and scamming and vulture extortion of funds of the locals in order to provide Miscavige with a "photo op" of a ribbon cutting ceremony, While inside molestation and dirty deeds are covered up. Covering up internal crimes are par for the course of Scientology Inc while it efforts to improve it's "PR Image."

"Public Relations"image indeed !