We know that LRH was a patient for about one year in Oak Knoll Naval Hospital in 1945. He complained of an ulcer and conjunctivitis. I have a report now in my hands that claims LRH was under psychiatric care at Oak Knoll. I will lay that aside for now while I check the treating psychiatrists name. It seems that LRH may have been given a lobotomy in 1945, or perhaps even 1949, in a US Navy Hospital. If this happened, it could explain LRH's sensational hatred of psychiatry. LRH's hatred of psychiatry has now metamorphosed into a plethora of front groups:
http://www.naturalfamilyblog.com/archiv ... rauds.html
*****
The conventional explanation of LRH's hatred towards psychiatry that has been uncritically accepted by critics is so simple, and yet could ultimately prove to be the greatest diversion in the history of Scientology criticism. There is widespread acceptance of the belief that LRH hated psychiatry and wanted to destroy it so that Scientology could obtain a monopoly on mental health. This would allow the Cult to make a fortune and to control the minds of all by means of its pernicious e-meter.
But what if it was more visceral with LRH? What if he had personally suffered a lobotomy, sexual abuse, and other horrors at the hands of psychiatrists in US Navy hospitals?
*****
Here is what we know:
1. LRH's father was a US Navy Officer: Lt. Cmdr. Harry Ross. This would have made LRH eligible for treatment in US Navy hospitals as a dependent of an officer.
2. Commander Snake Thompson, so Scientology's shore story goes, taught the twelve year old LRH Freudian psychotherapy. In my new theory, LRH was a patient of a US Navy psychiatrist Commander Thompson -- which is perhaps a fake name -- at a US Naval Hospital in Washington D.C.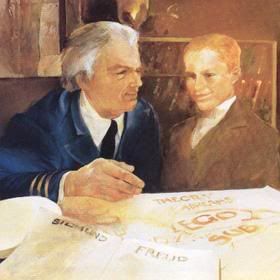 Question: Was LRH being treated for psychiatric problems by an abusive US Navy psychiatrist when he was twelve years old? Did his psychiatrist molest him?
3. Now comes a document into my possession which shows that LRH debarked the SS Caomo on August 29, 1932. The ship had left San Juan, Puerto Rico on August 25, 1932 and sailed to the Port of New York where LRH debarked. The passenger list of US Citizens shows LRH's home address in the US to be the
US Naval Hospital in Washington D.C
.
LRH was in the US Marines in this period and so would have qualified for government hospitalization and/or the psychiatric care of the time which could range from bed rest, therapy, medicine, to a full-fledged lobotomy.
Question: Why was LRH living in a US Naval Hospital in 1932?
*****
The following year, LRH once again sailed on the SS Caomo from San Juan, Puerto Rico on April 6, 1933. He listed his home address as P.O. Box 6, Beallsville, Maryland. Beallsville is very near Bethesda Naval Hospital.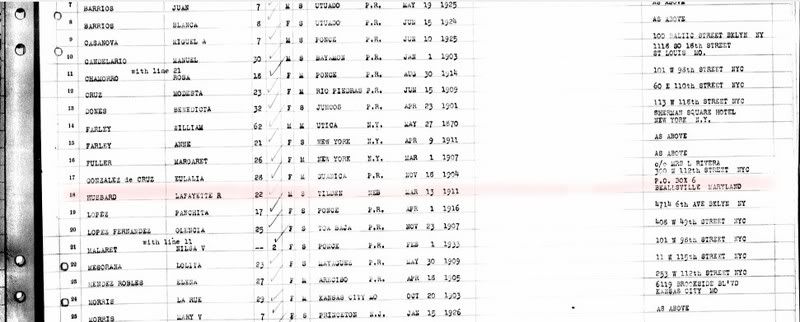 *****
As an aside, LRH made trips to Puerto Rico in 1932 and 1933 on a commercial steamship, the SS Caomo. CoS makes much of Ron's trips to Puerto Rico, however, my research did not locate any sailing manifests of the four-masted schooner
Doris Hamlin
leaving the US for Puerto Rico.
He directed two expeditions, the Caribbean Motion Picture Expedition, a two-and-a-half month, 5,000-mile voyage aboard the four-masted schooner, Doris Hamlin, and the West Indies Mineralogical Expedition, which completed the first mineralogical survey of the island of Puerto Rico under US rule. Upon his return to the United States, and with scientific grants few and far between, he began to write his way to fame and fortune, supporting his research by becoming one of the most popular writers of the 1930s.
ref:
http://www.scientology.org/p_jpg/wis/wi ... is3_1o.htm
I am certain that Danny Sherman has the documentation for LRH's trips on the Doris Hamlin.
////