An absolutely BRILLIANT idea was given today and posted at Enturbulation.org.
Here is the OPs that start the thread:
I just came across this thread at OCMB in which someone is trying to find a family member who has dissapeared iinto David Miscavige's personal prison camp:

Quote:
Last night my father received a phone call from someone in australia saying my uncle dave
is being held in an internment, a sort of SP camp over in the states?
Can anyone explain what this might mean and whether or not my dad should be worried?
Cheers

Joh

Later on in the thread, someone writes:

Quote:
I've read that the

people in SP Hall are very demoralized and would probably be brainwashed or coerced into claiming they are there voluntarily.

It is alleged that if authorities were to see the deplorable conditions they are being held in, it would result in immediate action.

(my bold)

Marc Headley also talks about this in his Glosslip Radio interview.

IN the days of Elron, SPs were simply thrown out of the Cult and subjected to Fair Game if they spoke out. But David Miscagive has become so afraid of his own high level executives that he locks them up when they begin to show signs of "blowing." Or perhaps because he is terrified of "mutiny." [My understanding of Co$ corporate structure is that DM has no legal authority over anything other than RTC] People like Heber Jentz (sp) who do have the legal authority to wrest control of the church away are thus locked up "foreever."

I think that Anonymous should make a BIG deal about this at the May 10th rallies--as it is a form of internal Fair Game within the church. Tory/Magoo wonders why no one who is not in the SP Hall does anything to get these people out. My guess is that most are terrified that they too will end up in it.

More importantly, it seems that everyone at the Int Base in Hemet has fallen into a kind of Stockholm Syndrome in which they completely identify with the values of their captors, and actually believe that they deserve the treatment they are being subjected to.

Mike Rinder seems to have escaped this by the seat of his pants (while leaving his wife Cathy there, the bastard).

There is a great youtube vid of Tory talking to an OSA guard about this at the 4-10 protest in LA. If you watch the video carefully, it is clear that her information that the Cult's highest execs are looked away in a prison camp and trotted out only once in awhile at big public events "got" to him (he knew it was true that no one has laid eyes on them at ANY other time) and he was extremely uncomfortable. Remember that everything Tory said was recorded on the Cult's security cameras and will be watched by any number of OSA execs. I am sure Tory knew this and was trying to "wake them up" with this info.

I think more of this "waking up" effort needs to happen with signs and flyers directed at the OSA operatives sent out to watch the protests. If Anon can plant a seed of fear in these people that perhaps they too could end up in an "SP Gulag" then more may be encouraged to quietly blow.

Here is more info on this from Blownforgood.

(2nd post in thread):

So here is an action I propose that Anon can take.

Send cards to everyone on BFG's list. It is true that none of them will likely ever see the cards, but the staff (and more importantly, DM) will become aware that the world is watching and is keep careful track of who is being held.

Sort of like an Amnesty International post card writing campaign (which has been in some instances EXTREMELY effective). Use post cards so that the mail men can read them and gossip and so that they cannot be ordered to be thrown away unopened by lower level staff. And there is no need for a return address on a post card.

If thousands of these post cards began to show up at the Int Base, I believe some key people can be shaken loose.

Sort of like this (please feel free to refine the idea)

Quote:
Dear so-and-so from BFG's list:

You may not be aware of this but there are many people, like me, out in the world who are extremely concerned about you and would like to help you get out of your imprisonment to a safe and secure place.

You have a right to be happy.

go to www.exseaorg.com or call toll free 1-866-XSEAORG and someone will help you get out and reclaim your life.

Signed,

Anonymous

Address to send post cards

(Name of Missing Person)

19625 Gilman Springs Rd

Gilman Hot Springs, CA 92583-2100

Edit: OT8Michael says that the name of Missing Person should be prefaced with the title

"Int Base SP"

and that it should be sent to

SP Hall

19625 Gilman Springs Rd

Gilman Hot Springs, CA 92583-2100

Either way I am sure it will get there, but with the 2nd version, we make it clear that we know that they are declaring high execs SPs and holding them in a special SP prison.
Here's the link to the thread:
http://forums.enturbulation.org/7-gener ... ase-11525/
I have been asked to get any suggestions from you here at OCMB in this campaign so please, your suggestions are valuable.
I personally bought a post card for each of the people in the "SP Hall" and mailed them out today. Here are the images of some of those for ya:
and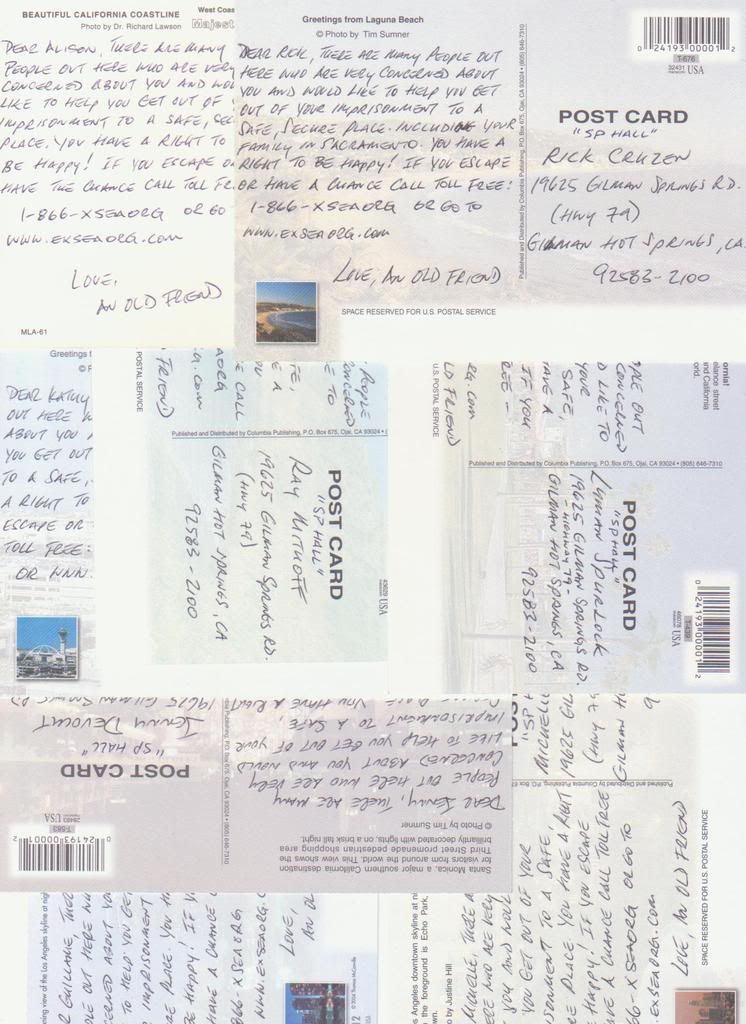 Cheers!
BTs2Free